The night before the big show down Mike had a corona in hand, hanging out near the bar at the Camp of Champions year ender party. Jack Fogelquist who also rides for Banshee was off sucking face with a girl –go jack- and the entire place was gossiping on what Mike had planned tomorrow.  Few days earlier Jack had a issue and needed a repair on his Banshee Rampant so Mike just handed him his and said use it , I'll ride my hard tail. When I heard of the story my hat was off, true sportsmanship but we all offered to get him another Rampant, it wasn't that hard to sort out the issue but he denied the offer, shrugged his shoulders and said, I'm cool!
The dude did the entire course with His Banshee hard tail amp! If you were not there in person you have seen the videos but nothing ever shows its true height or steepness when filmed… there was zero room for error! Not only was he to ride his hard tail on a course that demanded respect, he planned to tail whip the judges box, a cool 30 out 40 down drop.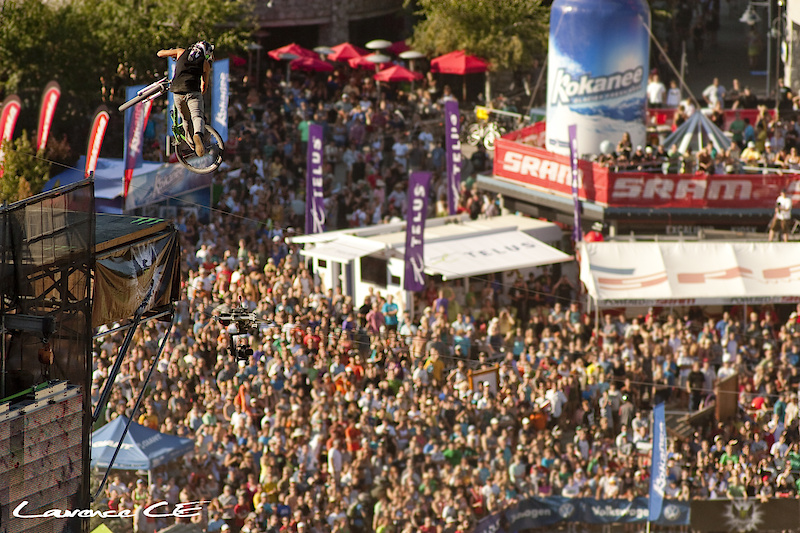 Check out Mikes gopro footage riding a set of Jeff Lenosky flats while Jeff and I sat on the roof top in awe of the run. 
This run set the pace, Fogel was slaying it but unfortunately made a simple mistake on a simple stunt that took him back to 17th, but anything can happen in slopestyle, Casey snapped his chain and had to pump his way down finishing with a sick on hander fist pump for the crowd.
More to come!