Rey sent in his Transition decked in White pedals and the new Silent guide… unsure if you are playing with the color ray or have way too much money and bought two bikes!?
Lets assume he is rich and here are his steeds. Knowing Rey this bike may be stolen so if the rightful owner see this, I have his info.
That silent guide was the first one sold and installed in America… and Rey lives in Texas..go figure.
Mike sent in his Canfield rig wit hour 50 mm boxxer and matching seat collar. Mike promises to put the Silent guide on the Canfield but the design looks like a no go, cannot win all the battles.
I will hold you to a pair of pedals Mike, we want more real state on that bike!
EDITORS NOTE*** This replaces the jibberish about Sanesh, he works at North Shore bike shop, and rides a Banshee Wildcard, I confused my emails and I was wondering how he could afford two rigs!
"Hey Greg,
I think you have me mixed up with someone else named Sanesh . I live
in Los Angeles and I'm a Location Scout for the ABC comedy
"Cougartown". (amongst many other TV shows and commercials) EDITORS NOTE*** Awesome! . I don't
work in a bike shop although I LOVE bikes! But I do think I might
have gotten the first pair of Lenosky's....
Cheers!
Jamie Danesh ( the green 951 )
Boing!
Now this is Sanesh of the Shore… his ride scored a set of the first 2010 jlo's off the line –sorry Danesh, lied by mistake.
Sanesh is also riding on our Silent Guide with the 2010 JLO pedals or some bling. And Sanesh your shot sucks but thanks!!
Found this next  shot on Pinkbike today, glimpse of a Straitline platform on the Shore on Ryan Berrecloths Knolly.
If you want to see what it is like for real over here look at this link, great shots http://www.pinkbike.com/news/north-vancouver-photo-story-part-1-2010.html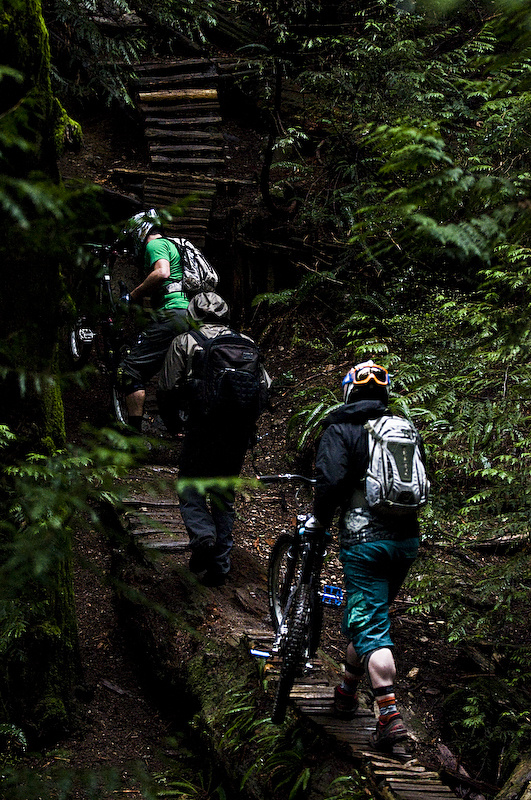 So, send me your installs, I like to see the build ups and ideally where you ride them too, garage shots are cool but don't hide all secret spots for yourself!
I will start first and show you my secret riding spot… 
Its just over there…
It starts near the second tree…
When you get to the creek cross it and the trail starts, cannot miss it.
So now send me yours!